Welcome to part 3 of our annual Father's Day Sale!
We started with Part 1… continued with Part 2… and now it's time for Part 3!
With Father's Day around the corner (psst… it's June 20th), we want to make sure you have plenty of awesome gift ideas that will surprise even those dads who seem to have it all.
Today we're featuring 10 super useful DIY (Do It Yourself) innovations for fathers who love to get the job done themselves. Whether he's an expert handyman OR he just loves the sense of satisfaction you get from handling things on your own, you're sure to find something that'll make him proud!
Bondic: Tell Dad To Throw Away His Superglue… Because This Space-Age Adhesive Is 1,000X Better!
Does dad prefer to repair things rather than throw them away? Right on – then there's no better tool out there for him than Bondic! This "high-tech future version of glue" is super easy (and incredibly satisfying) to use. Oh, and it's also 50X stronger than glue, never leaves any mess, and can be remolded and reshaped again and again. What's not to love?!
Bondic is extremely strong. The formula is designed to last forever!
Works on any and all surfaces – metal, wood, glass, plastic, ceramics – you name it!
Never leaves a mess or stinky fingers behind. Melts only went exposed to UV light!
Won't dry out since it's not technically a glue. Melt and reuse over and over and over
Completely safe to use, non-toxic, and no heat required!
Over 1500 5-Star Reviews. As featured in Popular Science!
Click HERE to surprise dad with Bondic!
---
FIXD: The Device That Turns Him Into A Mechanic (And Can Save Him HUNDREDS On Car Repairs!)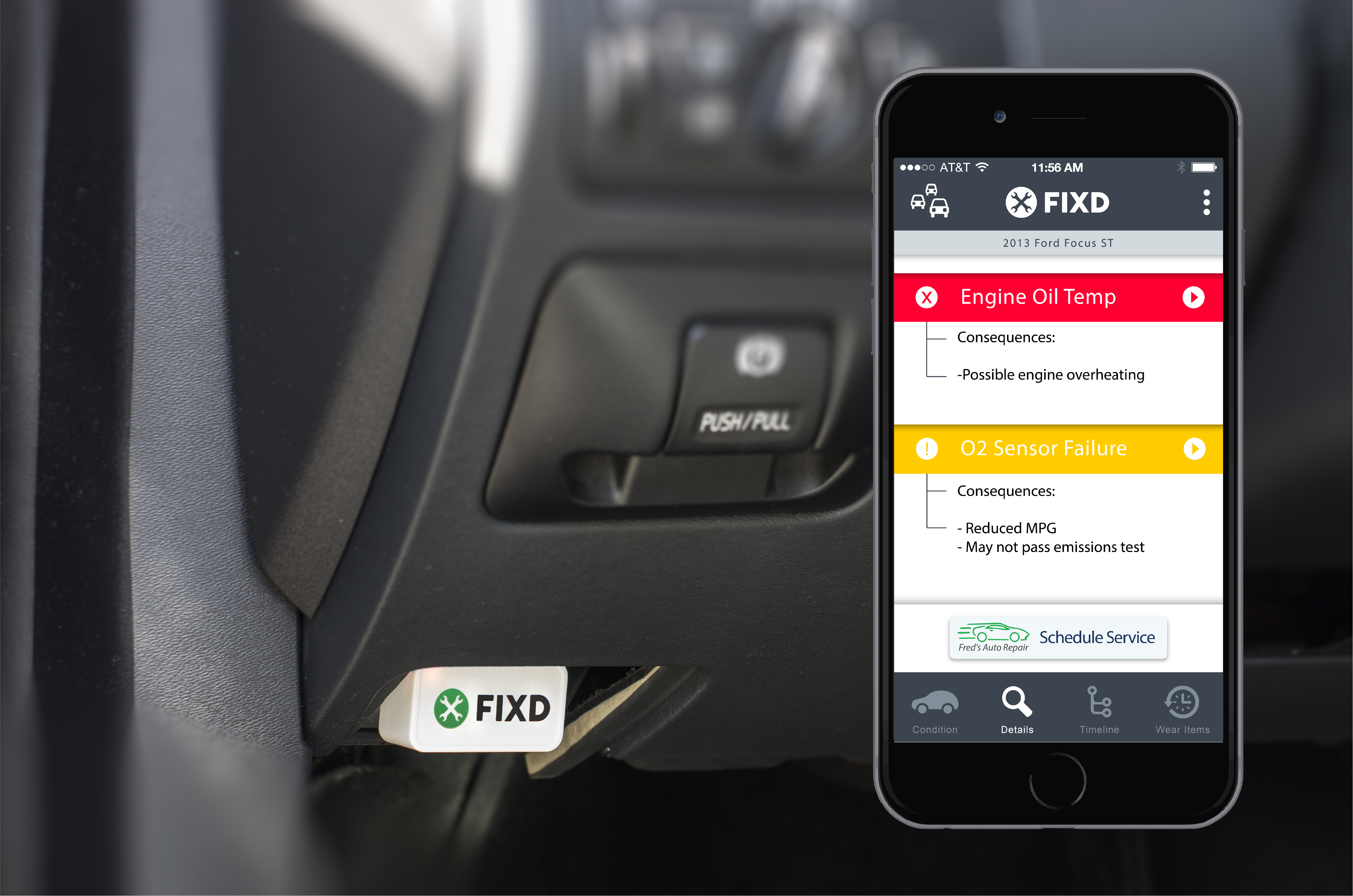 Let's be honest: If dad had the choice, he'd probably choose a car as his best friend. (His "real" friends wouldn't mind, either… they'd be busy with their own car friends.) Since that's not possible (yet), FIXD is the next best thing – it plugs into his car and tells him exactly what's happening inside using the easy smartphone app. Most people use it to save thousands on car repairs (and catch mechanics red-handed) – and while dad will use it for that, we have a feeling he'll be spending hours playing with the various settings as well…
Quickly diagnoses that "Check Engine" light (and other problems)
Easy plugs into any and all cars – gas, diesel, or hybrid!
Feels like having a mechanic in your pocket
Alerts him in real-time of over 7,000 potential issues with his car in real time
Can link multiple FIXD sensors to one account to monitor every car in your family and keep them safe
Includes access to a support team for a second opinion when he needs it
1.5 million FIXD sensors sold & counting!
Click HERE to surprise dad with FIXD!
---
Fortify Quickcoat: Help Dad Give His Car A "Showroom Shine" & Diamond Protection In Minutes – Without Any Help!
Does dad love his car? Then surely he wants it to shine like a diamond – and be just as strong, right? Then there's literally no better option than Fortify Quickcoat! It's the ONLY DIY, at-home detailing product that uses ceramic waterless cleaning technology and wetting agents to gently, safely, and effectively cut through dirt, grease, and grime on contact – leaving him with a clean, sealed, and protected surface each and every time.
Washes, shines, and ceramic coats in one application!
Recommended by professional car detailers
Does the work of more than 3 products in one simple application
Protective layer lasts for months
Gives his car a stunning "mirror-like" finish
"I was the biggest skeptic of buying car care products online until my wife bought me this for Christmas! I've never had more people ask me if I got a new car when my car is actually 6 years old!!!" – Mark P.
Click HERE to surprise dad with Fortify Quick Coat!
---
Kailo: The Nanotechnology Pain Patch That Relieves ALL Types Of Chronic Pain
Until recently, turning off your pain this quickly would have either meant using intense drugs… surgery… or just imagining things. But finally, nanotech technology is available in this lightweight patch! All dad has to do is stick Kailo on his body near where he feels pain – in about a minute, he'll feel amazing relief. It works anywhere he needs it to – including his head, neck, shoulder, back, knee, hand, foot, and more!
Uses nanotechnology to naturally relieve pain in seconds
Works anywhere on his body that he feels pain
100% drug-free with absolutely zero side effects
Waterproof and sweat-resistant
Each patch will last for years and comes with reusable adhesives
More than $3.5 million sold with tons of positive reviews!
Click HERE to surprise dad with Kailo!
---
Lumiguard: The Easy & Affordable Way To Light Up Your Yard, Driveway, Or Any Outdoor Space (Even Without Electricity)!
This solar-powered lighting system is incredibly easy to install – and even better, you don't need electrical wiring! If dad has always dreamed of having a perfectly lit entryway but doesn't want to bother with the huge expense of hiring professional electricians… well, now you can give him the answer! Lumiguard is completely wireless and features motion sensors that work in the dark.
Installs in a matter of seconds – no expertise required!
Motion detection provides excellent security for your home
Perfect as an entertainment light for the patio, BBQs, events, etc.
Solar-powered – no wires or batteries needed
An affordable way to increase your home value
"Very, very impressed!!! I decided to go with these based on the positive reviews, as I'm tired of shelling out 15 to 20 bucks on D batteries every few months. Exactly what I needed. I will buy again!" – Ellie C.
Click HERE to surprise dad with Lumiguard!
---
Soul Insole: The Fast, Natural Way Help Dad Relieve His Foot Pain
Is dad feeling foot pain lately? No sweat – Soul Insole is here for him! No matter what size his shoes are, these amazing "micro-orthotic" insoles will give him immediate comfort and relief. Not only will it feel amazingly good RIGHT AWAY, but it will actually support proper alignment and help him feel less pain all over his body!
Completely sustainable – Soul Insoles last for years, don't lose stickiness after wash and one pair can be used on multiple shoes
Biomechanical design redistributes pressure evenly across the foot to relieve unwanted pressure
Reduces stress from the gentle foot massage he'll be feeling all- day
Relieves foot, back, AND body pain. Helps dad from the bottom up!
Works in every single shoe – even open-toed sandals! Plenty of sizes available as well
#1 Choice By Doctors, Top Athletic Therapists and Medical Practitioners Worldwide
Click HERE to surprise dad with Soul Insole!
---
Peeps: The Simple Gadget That Cleans His Glasses From Germs & Grime In Seconds!
The smudge. THE SMUDGE!!! It comes out of nowhere – covering his glasses in an instant. And sometimes, it's more than an annoyance – it's germs. Dad can try to wipe it away (which often results in the smudge simply growing)… or he can use Peeps! This compact eyeglass cleaner uses Carbon Molecular Technology to perfectly clean glasses in seconds. Dad just needs to squeeze the tweezer-like shape and rub over the lens and viola… perfectly clear!
Cleans his glasses perfectly – every. single. time!
Completely revolutionary and effective
Trusted by more than 20,000 optometrists around the world
Scratch-resistant brush removes dust and all abrasive particles in seconds
Removes dirt and oil (instead of just spreading it around)
Patented invisible carbon formula is gentle on lenses… and tough on oil
Trusted by NASA, the US Military, and 20,000+ Optometrists around the world!
Click HERE to surprise dad with Peeps!
---
Xtra-PC: Give New Life To His Old (Or Even Completely Dead) Computer In Minutes!
If dad has been complaining about his slow computer lately, this could be a godsend! Xtra-PC is a brilliant cost-saving device that helps dad restore his old, broken-down computer to brand-new in just a few clicks. Even the oldest of devices will be back up and running in absolutely no time at all… and most importantly, dad doesn't need to be a computer wiz to use it. He'll feel proud AND save the expense of a new computer
No technical knowledge required – just plug in Xtra-PC and follow the simple instructions!
Saves money – and the environment!
100% safe to use on any computer (keeps his files exactly where he left them)
Includes all his favorite programs – web browsing, email, docs & spreadsheets, music, video players, and more
Works on any Mac or PC – if his computer has a USB drive, he can use Xtra-PC
Over 300,000 customers trust Xtra-PC!
Click HERE to surprise dad with Xtra-PC!
---
EyeQue: The At-Home Vision Test That Lets Him Update His Prescription Glasses From Home – No Optometrist Needed!
Updating your prescription glasses is always a hassle – not to mention expensive. And lately, it's been practically impossible with many offices closed or operating for emergencies only! That's why we're big fans of EyeQue. This patented device uses MIT Technology to give dad an accurate eye exam from home, which he can use to order prescription glasses online. Optometrists recommend it, saying it provides excellent results while helping to reduce office overload!
Incredibly accurate – over 90% of users who ordered glasses said their results were as good or better than their previous office visit results
Completely safe to use
Works quickly – he'll get his results in under 8 minutes!
No prescription required to use
Tracks his results over time, which his optometrist can use to improve his care
MIT-Patented Technology & CES Award Winner!
Click HERE to surprise dad with EyeQue!
---
SeedSheet: Help Dad Grow His Own Fresh Ingredients – Guaranteed (Even In Small Spaces!)
Dad doesn't need a green thumb to enjoy SeedSheet! This innovative "mini-garden" instantly transforms any backyard or patio into a thriving organic garden. The best part? Each SeedSheet provides up to $92 worth of Organic, nonGMO Produce! SeedSheet's app tells dad exactly how to care for his herb garden, sends him reminders when it's time to water, and even shows him how to make delicious recipes when it's time to harvest. Anyone can do it!
Includes six delicious and healthy herbs to enjoy in a variety of meals
Easy enough that ANYONE can do it!
Notifies him when it's time to water it and harvest his veggies
Includes every single thing he needs – no extra store trips required!
Works indoors and outdoors – it's totally up to him!
Shark Tank Winner – Over 150,000 SeedSheets Sold Worldwide!