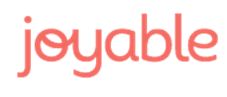 Do you struggle with social anxiety? Are you too embarrassed to try to solve this issue or feel like it's something you can't fix? You're not alone – millions of people struggle with social anxiety and feel like there's no hope in eliminating it. Well for those that feel that way, we've found the perfect service for you!
Joyable is an online, coach-supported service that uses Cognitive Behavioral Therapy techniques to help you achieve your social goals. You're assigned a coach who supports you and helps you through this process and to aid you in achieving what you want. Your coach will support you and help you track your progress, as you perform online activities that take as little as 10 minutes and can be done anywhere at anytime!
Joyable is a great way to help overcome any social anxiety you may face and it's a fun and supportive way to get the job done! It's a simple program that has a high success rate – over 90% of Joyable's clients see a reduction in their anxiety. We're all about health and wellbeing and that means mental health is just as important to take care of as is physical health, and this is a great way to improve mental health. Check out Joyable now!